Teenage years can be a troublesome time for your kids, but when it comes to home living, this tricky time can impact the whole family! But with a little bit of clever thinking and planning of the design of your new home, you can keep your whole family happy , sane – and living together longer!
Accommodating for teens at home come down to the following features: space, storage, privacy and independence. And, while planning for your home design, it's recommended that you include your teens and ask for their input. But remember, accommodating for teenagers is not just about building separate spaces to hide away. You'll want to include larger living or dining areas, too, so the family can have valuable 'together time' without feeling squashed and overwhelmed by each other's company.
Bedrooms
With offspring living in the family unit for longer these days, it's wise to plan a bedroom that is teen-friendly, e.g., a little larger, with plenty of storage and room for a quiet study area. Also, build it away from the parents' bedroom to allow for necessary privacy and fewer chances of friction. If budget is not a problem, you can even build an ensuite for more convenience and privacy.
Communal areas
A large communal area or areas is ideal for a family with teenagers, not only for the family to enjoy in a far more relaxed mode, but also for your teens' friends and home entertainment. Areas such as the kitchen, family room, dining room or even a garage should be able to accommodate the odd birthday party, rehearsal or other home activities. Think also about soundproofing the walls and even doors so your kids can let off steam without having to worry about disturbing others.
The kitchen and dining areas, in particular, are always important rooms in the house as it is a place where everyone comes together. Make sure you build in plenty of room so all of you can all happily relax here and spend time together. Larger kitchens are also far easier for accommodating more than one cook at one time, not to mention several people helping to clean up!
Retreat areas
The best thing about retreat areas is that they're not just for kids! Obviously, they make an ideal hangout for moody, broody teens to talk on their iPhones or watch TV, but they are also an invaluable space for parents that need an escape hole.
Some parents are concerned that if they build a retreat area, they'll never see their kids again. On the contrary, it may be far wiser to acknowledge your offspring's new life stage – a stage that requires more privacy and independence. Depriving them of this may backfire on you, and you may end up standing in an empty nest.
The granny flat
An obvious solution for teens at home is to build a granny flat. These can be especially useful for teens sitting exams that need as much quiet as they can for study time. They are also a wonderful way of giving your child a taste of independence while still enjoying the safety and security of the family home. A granny flat will, more than likely, never going to be a waste, either. Later, it can be used for an ageing parent, overseas visitors or be leased out for extra income.
Building & design features to consider for teenagers: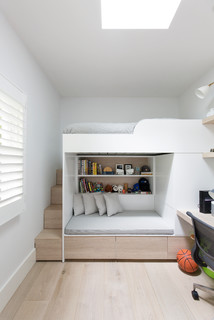 pullout bunkbeds
display space and pinup boards
outdoor access doors
soundproofing
accessible built-in storage
large wardrobes
natural light and ventilation
casual, comfortable furnishings
quiet study areas
mirrors and an additional toilet (especially if there is only one bathroom)
For more information on building a new home, call JFK Home Design Today: (08) 9355 1788